As you may know, running a sustainable business consists of three aspects: the planet, people, and profit. We will detail how sustainability is kept @ The Yard with these 3 in mind.
The Yard is an eco-friendly hostel in Ari, which is in the city of Bangkok. Packed with trees and open-air communal areas, we have nature getaway in Bangkok.
One thing that makes us different from other hostels is that we aim to reduce our impact on the environment as much as possible.
It is a well-known fact that our planet is in danger, with many issues, including global warming. Thus, we need to be sustainable with our lifestyle.
We aim to reduce our impact on the environment as much as possible and use resources that wouldn't harm the planet.
We put much consideration while designing the hostel.
For example:
The rooms are made from old shipping containers.
We used recycled papers to insulate the rooms to reduce energy consumption, keep the room at lower temperatures, and shield the heat from outside.
The higher-level roof can also help reduce heat.
Our garden takes up half of the hostel.
We use energy-saving appliances; this way, we can reduce 40% of energy consumption.
We also use motion sensor lights for the front of our hostel because we only need them when somebody walks past it.
Every rooms and bedroom have windows within them, this way we can take maximum advantage of the sun during the day.
Our lobby doesn't use air conditioning, as with other communal areas we use open-air and cross breeze enviroments to provide shade and air flow.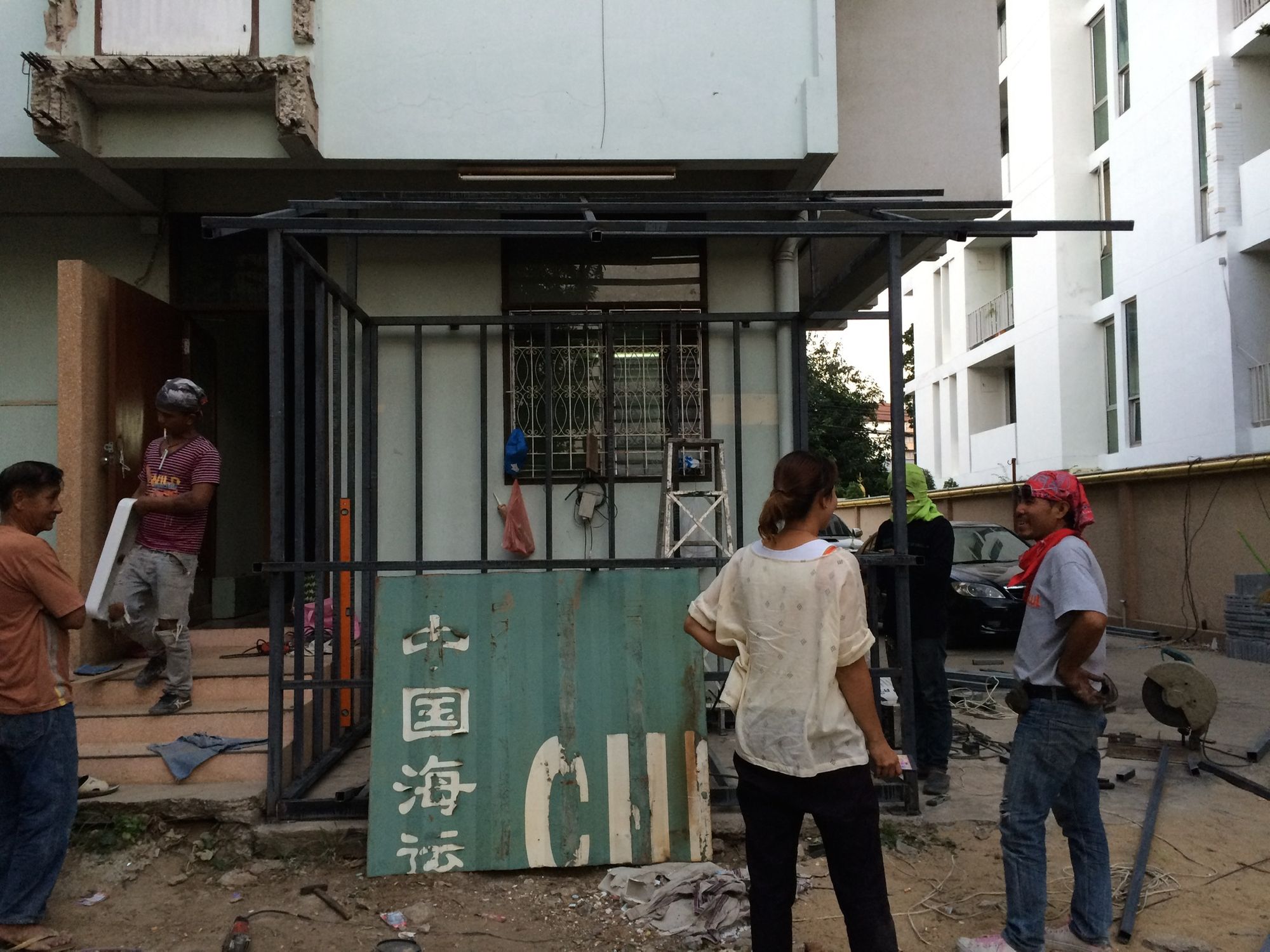 We repurposed extra parts of the shipping containers to build our bar.
Encourage
By offering reusable bottles to guests to borrow during their time at the hostel, we can reduce the use of plastic by 1000 bottles per month.
We separate our trash by categorizing it.
Serving breakfast as a set to our guests can reduce food waste. Of course, they can always ask for refills until their tummies are satisfied.
Guests will get bottles when they check-in and refill drinking water from the filter machine at the hostel.
Social Impact
The Yard started the 'Rest for forest' campaign in 2019 because I went to the Karen village and found out that they preserve the forest for us. Most of us, Thai people, never heard of rotation farming, and they assume the Karen people destroy the forest. After finding out about this, I wanted to bring awareness, so I started this campaign.
About the campaign:
Coffee beans from organic farms in Northern Thailand to support local farmers.
If we get booked directly through our website, we will donate 7% of the profit to the project.
The money donated was used to buy air pollution masks for local people.
They needed the masks because there was, and still is, severe air pollution that was caused by agricultural burning and forest fires in the north.
The money was also used to buy gasoline for their vehicles for the hill tribe members.
They work to prevent fires by clearing dead trees and prepare tanks for rainwater in that area.
The rest of the money was used to raise awareness about the causes of forest fires.
After 2 years, we were able to donate around $700.
We proud even if it was just a tiny amount of money to some people, but for us and Karen it was nice very nice to be apart of and help anyway we can.